As Merrie is still quite young and still growing, what she eats is extremely important, although the way she counter surfs in the kitchen and has been known to snaffle the odd lemon muffin (still in the paper) you'd be forgiven for thinking she will eat anything!
When Butternut Box got in contact and asked us if Merrie would like to trial their delicious food, she didn't say no.
I have read many articles and spoken to lots of dog owners regarding dry food versus Raw, and it's pretty even, well Butternut is a little bit different, in fact its like have a Sunday Dinner every single day!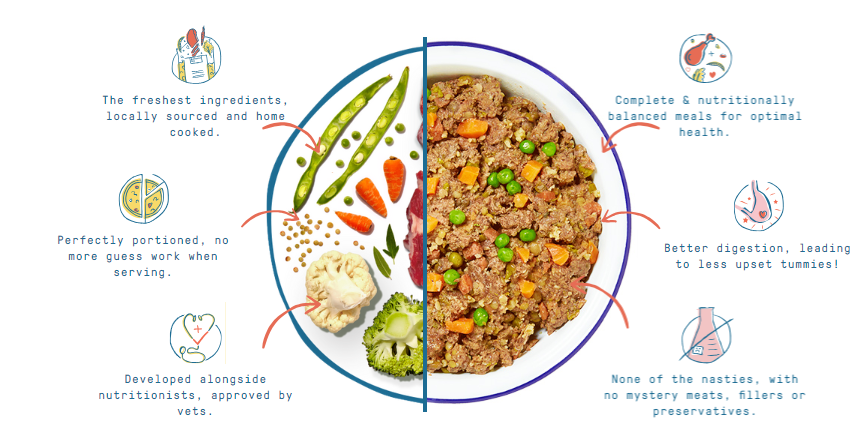 The meals consist of Chicken, Beef, Turkey or Lamb, with lots of healthy veg, grain free, cooked in the UK with ingredients fit for humans.
When you head over to the website, it asks you all about your precious fur baby, because lets face it, all dogs (like humans) are unique and individual, and I know that I don't eat the same as my 6 foot rugby playing husband, so its just the same with dogs!
You are asked to fill in your dogs name (its all about the individual dog), age, gender,weight to ensure you get exactly the right food requirements for your furry friend.
Now Merrie is a 'big girl' according to Butternut Box she needs 1329 calories per day, as you need to make the change from one food to another, Butternut Box takes this into consideration and you are given instructions and smaller portions to begin with to add to existing food, until you have moved over to the new meals completely, and it also includes a free 2 week trial to ensure you and your dog are happy with Butternut Box.
Your subscription also includes:
Our Thoughts.
The box arrived very speedily, you can choose on the website when it will arrive, delivery is free and it can be on any day of the week. The large box arrived and the first thing I noticed was what a lovely box it was, it had lovely messages on the box.
The meals all arrive frozen and I must admit I was surprised at the size of the pouches, they seemed huge!
There were a full set of instructions of which to feed Merrie and when, the first few days it was a smaller pouch which you added to some of their current food, this was very well received, during the warmer weather Merrie hasn't been eaten as much a usual, but when the Butternut pouch was added to the food, it was devoured quite quickly!
The larger portions she loved just as much, and every time I went to the fridge she was looking at me excitedly as if she knew what was coming for her dinner!
As Merrie is such a large dog, she last weighed in at 46kg, she obviously requires a large amount of this type of food, the cost per day for Merrie would be £4.35, which works out at being billed £60.90 every 2 weeks.
Merrie enjoyed the Butternut Box and it is definitely a tasty meal, but for us the cost would be too much per day and the size of the meals she requires took up half of my freezer! Which isn't very helpful with nine people to store food for!
If you have a smaller dog that you are looking for a tasty, healthy meal , then this is definitely a choice to consider, a 15kg dog only costs £2.37 per day.
If you think that Butternut Box sounds like a great food subscription for your dog, then head over to the website
butternutbox.com/Merrie50 where the lovely people of Butternut Box will give you 50% off your first box.